A Beer Corner Furniture for a great highlighting ! 
06/08/2018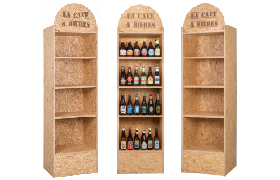 In addition to the "The Beer Corner" concept we presented you in a previous article, we suggest you a furniture that can hold the 24 beer references for a great highlighting !
It is a rustic style furniture with 3 shelves adjustable in height and delivered in kit form with instructions for assembling.
Don't hesitate to contact your salesman for more information about the purchasing conditions.
As a reminder, we propose 24 references with white beer, lager, amber beer or flavoured beer from local brewery or european breweries with traditional skills.
Discover all our range of products with so different tastes and colors : organic beer, abbey beer, trappist, gluten free...