Canto and Jean d'Audignac honeys, sweetness and benefits
10/10/2018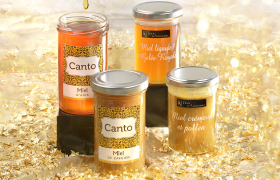 Canto and Jean d'Audignac brands develop their honey ranges and launch each other two honeys "health" references. 
Indeed, each honey has got its own properties :
Anise honey is well known as a very good digestive stimulant, that reduces bloating and fights against nausea and nervous disorders.
Honey Coffee Tree​ is, for its part, an excellent sugar substitute and owns qualities that helps soothe irritated throats.
Honey with royal jelly​ is rich in micronutrient, it boosts the body's defences by preventing winter diseases and reducing, among others, stress.
Honey from pollen is protein-rich, it stimulates immune defences and combats tiredness.
Available on your private account on www.sdprungis.fr.