Focus on... truffles
09/11/2018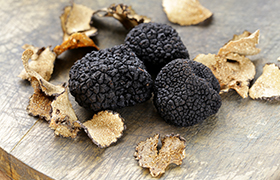 Do you want to eat truffles ?
Don't hesitate anymore and test its strong taste. To add truffle can change a simple meal in a so amazing plate !
Jean d'Audignac proposes a large range of truffles from Perigord (tuber melanosporum) : chunks, pieces, whole truffles... but you can discover carpaccio and truffle juice which are so easy to use in cooking.
Truffles can be in a lot of products like risotti, vegetable spreads, potato crisps, oils, salts, mustards, terrines, mayos...
More information about our truffles references on your private account on sdprungis.com !