Jean d'Audignac organic soups and "veloutés" : 100% practical​
10/10/2018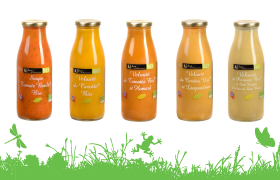 In order to increase the offer of our range dedicated to organic products, we launch 5 new organic soups and "veloutés" : two recipes with vegetables and three recipes with unique taste associations of vegetables with seafood products. 
Advice : warm up on a mild heat, without bringing to the boil, then add a knob of butter and serve it with a little bit of double cream and few croutons.
And discover or rediscover the rest of the range (organic velouté of 5 of vegetables, organic pumpkin velouté and organic soup summer vegetables) on your private account on www.sdprungis.fr.