Titre en-tête

Your wholesaler selection
Foie gras and terrines
Visuel Mosaïque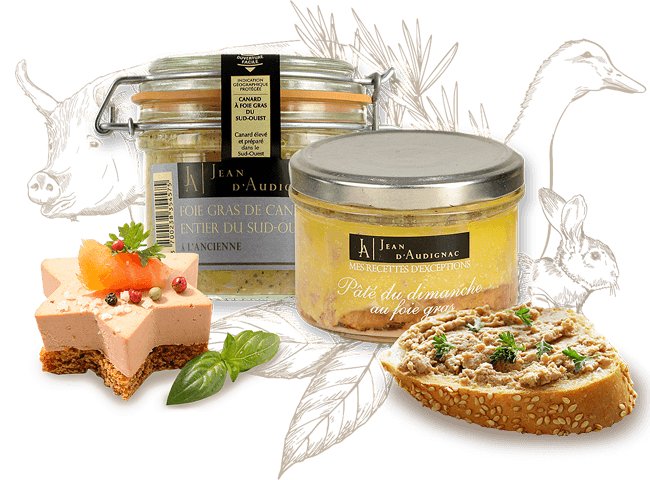 Contenu
Our selection
Our foie gras, terrines and pâtés are mainly made using French meat, and they come in many different varieties to suit all occasions.
Citation accroche
Don't miss this choicest of meat options!
Titre gamme

THE ADVANTAGES OF THE RANGE

TASTE
Jean d'Audignac has everything you need, made using French expertise married with the delicate taste of mainly French poultry.

ORIGIN
Our whole duck foie gras comes from south-western France and has Protected Geographical Indication status.

CHOICE
From traditional products to flavoured specialities, our foie gras has no equal!
Titre produits phares

Discover our products
TRUE CAMPAIGN PATE FROM BRITAIN LABEL ROUGE

JEAN D'AUDIGNAC

200 g

BLOCK OF DUCK FOIE GRAS LINGOT MADE IN FRANCE

JEAN D'AUDIGNAC

180 g

DISPLAY RANGE OF TERRINES

JEAN D'AUDIGNAC

180 g