Risotto porcini mushrooms and tomatoes
11/03/2019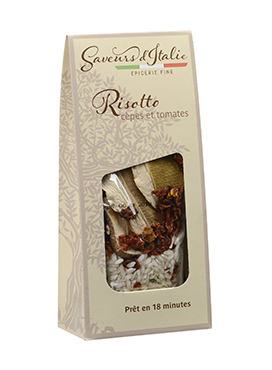 Our risotto Saveurs d'Italie is presented in its beautiful packaging with a small window. The risotto has a 100% vegetarian recipe but you can add parmeggiano, pancetta or whatever you want (don't hesitate to create your own recipe !)
Really easy to use, just follow the different steps :
- Warm 5 olive oil tablespoons in a pan. You can add some shalots in small pieces. Pour all ingredients from the packet in the pan and stir for 2 minutes. Add one liter of water (or vegetables stock for a tastier risotto) and let it cooked around 16 minutes (if you have more time, you can add the stock regurarly when rice absorbed liquid and stir). Ajust seasoning if you need it). At the end, add some olive oil and grated parmeggiano (parmeggiano gives a creamy consistance to the meal and allows to fusion rice and sauce). It is ready to eat (with fresh parmeggiano) !
And think to our other recipes : curry, porcini mushrooms and saffron, vegetables, aspagaruses, tomatoes, eggplants, peppers, polenta, artichokes... and the carnaroli rice to create its own risotto recipe.