The 2020 catalogue
22/01/2020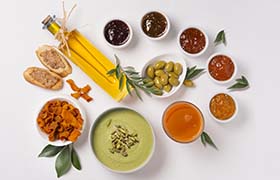 The 2020 catalogue is out!
It includes all the references of our delicatessen product ranges, and includes all the new products launched in 2019.
It is divided by chapters as follows:
- Organic products: spreads, appetizers, crisps, mustards, vegetables, ready meals, soups, terrines, sauces, jams, biscuits, chocolate, coffee, fruit juices, beers and ciders.
- La vache qui regarde passer les trains brand products (organic and conventional products): aperitif spreads, aperitif biscuits, condiments, sauces, dried fruit, jams, cereals, biscuits, spreads, boxes, etc.
- Vegetables and mushrooms divided into 3 sub-chapters vegetables with all the vegetables in jars and antipasti, soups and velouté with the 50cl and 75cl formats and mushrooms (including truffles in jars)
- Foie gras, terrines and ready-made meals : foie gras in jars and blocks as well as terrines and boxes and ready-made meals.
- Fish: rillettes, fillets, cans, soups and caviar
- Dry groceries and aperitif products: crisps, pasta, rice, aperitif biscuits and breadsticks.
- Condiments and sauces: olives and tomato concentrates as well as spreads, confits, bruschettas, mustards, cold and hot sauces.
- Countertop and cooking aids: oils and vinegars, dressings, salt, pepper, spices and cooking aids
- Fruits and jams: jams, honeys, compotes, fruits in syrup and coulis.
- The biscuit factory: soft biscuits, dry biscuits, regional products, rusks, dessert preparations...
- Confectionery and chocolate: spreads, chocolate bars, sweets, caramel, regional specialities (nougats, Flavigny aniseed, niniches...).
- Hot drinks, non-alcoholic drinks, alcoholic drinks: coffee, fruit juices, lemonades, aperitif wines, ciders, beers, wines (selection of the best sellers).
The BF and Les impeccables products are covered in a separate leaflet that lists all the products of each brand.
Contact your sales representative to receive your 2020 Catalogue!