New brand Primeur mais pas que !
13/05/2020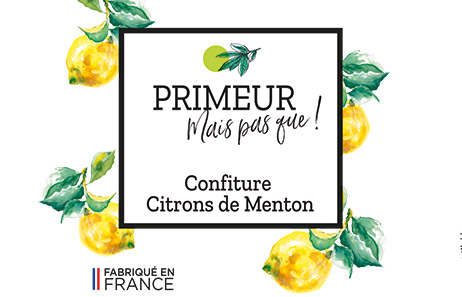 Primeur mais pas que ! it's the new signature brand launched by SDP Rungis in April. A new top-of-the-range brand with a meticulous design and a refined product line. Primeur mais pas que ! offers high quality local products and thus brings the producer closer to the consumer. The products are made in France from the main French raw materials. The textured paper of the labels and the watercolour illustrations bring lightness and softness. The labels are sober and enhancing: all in delicacy for an aesthetic that highlights the product, the real star!
Primeur mais pas que ! offers local products with the good taste of yesteryear. What could be better for this grand premiere than a collection of French fruit jams? Primeur mais pas que ! revisits the classics of the regional specialities from our orchards: the tangy lemon from Menton, the famous Corsican clementine from Corsica, the delicate mirabelle plum from Lorraine, the sweet strawberry from the Dordogne, the juicy yellow peach from the Rhone Valley, the sunny apricot from Roussillon and the unmissable fig from Provence. With an average of 65% fruit (depending on the recipe), these jams are rich in flavour and deliciously gourmet. Prepare them for your taste buds and spoon them out!
Primeurs mais pas que ! will develop new recipes for new product ranges soon with the same objective in mind: to offer local products made in France that revolve around the world of Primeurs. Whether sweet or savoury flavours, Primeurs mais pas que ! is dedicated to offering regional recipes, which highlight natural products but which are always terribly tasty. We will not fail to present them to you as they should be.
In the meantime, you can find all our latest products in the Spring catalogue in your private area or contact the sales representative in your area.