Titre en-tête

Your wholesaler selection
Condiments
Visuel Mosaïque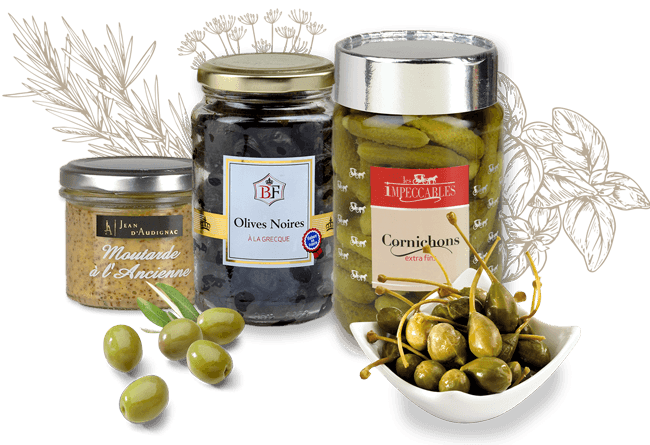 Contenu
Our selection 
To enhance your dishes the simple way, explore our selection of mustards and olives – they have notes both classic and innovative, so everyone will find something to love.
Citation accroche
The finishing touch for meals with a character all their own!
Titre gamme

THE ADVANTAGES OF THE RANGE

ORIGIN
Our selection of French olives and our Jean d'Audignac mustards available in 100g and 175g formats are made in France.

CHOICE
From good old classic stuff to forceful, truly piquant mustard, our selection of products suits every taste.

INNOVATION
Jean d'Audignac 175g mustards have a highly visual patented system that shows the pot's olive oil content.
Titre produits phares

Discover our products
LEMON CONFIT IN OIL
WITH PROVENCE HERBS

Jean d'Audignac

180 g

Capers

Boucherie Française

60 g

GREEN OLIVES

Les Impeccables

200 g

WHITE ONIONS

Boucherie Française

110 g