Selection of organic products
Organic fruit preparations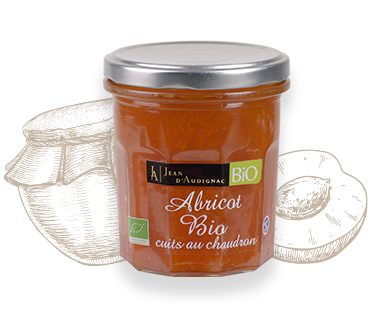 Jean d'Audignac's organic fruit preparations cooked in a cauldron, a little sweet pleasure !
 
The organic apricot cooked in a cauldron is a light and tasty fruit preparation. Its fruit content is perfectly balanced with the sugar, which softens the acidity of the apricot. Presented in its hexagonal jar with a discreet label, the fruit preparation plays on transparency and lets its taste speak for itself. It can be eaten for breakfast, but also as a coulis in a yoghurt.
 
The other flavours of the range :
 
organic orange-grapefruit-lemon,
organic raspberry,
organic blueberry,
organic strawberry,
organic red figs,
organic vanilla William pear.
 
Prepare your "organic fruit preparation" order online
THE ADVANTAGES OF THE PRODUCT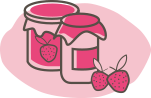 TASTE
a preparation elaborated with 50% fruit.

ORIGIN 
the fruit preparation is made in the south-west of France.

AUTHENTICITY
the traditional recipe with cooking in a cauldron.
Recipe idea
 
AUDIGNAC JEAN STYLE FRUIT ROLL-UP
1. Blanch 4 egg yolks with 150g of sugar.
2. Add a teaspoon of baking powder and 100g of flour.
3. Mix well until the dough is smooth.
4. Whisk the 4 egg whites until stiff.
5. Add them to the mixture, being careful not to break them.
6. Spread on a baking tray with a sheet of greaseproof paper previously buttered and floured.
7. Bake in a hot oven at 200°C for 10 minutes.
8. Place the dough on a damp cloth while it is still warm.
9. Brush with Jean d'Audignac Organic Fruit Preparation cooked in a Jean d'Audignac organic cauldron.
10. Roll the biscuit quickly using the cloth. Cut both ends to obtain straight edges.
11. Sprinkle with icing sugar or a drizzle of chocolate.
It's ready, enjoy!
Envie d'autres produits à base d'abricot ?
Apricot Nectar

Jean d'Audignac

1L

Apricot coulis

Jean d'Audignac

165g

Apricot mumps

Jean d'Audignac

72cl

Organic Fig and Apricot Granola

La vache qui regarde passer les trains

400g

Soft organic sun-dried apricots

La vache qui regarde passer les trains

200g