Selection of organic products
Organic mustards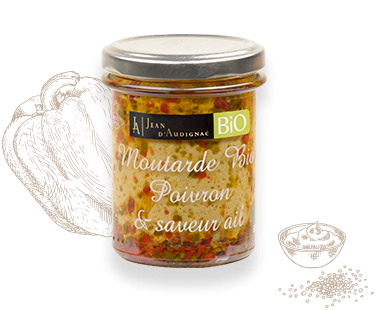 Jean d'Audignac organic mustards, just breathtaking !
 
Organic pepper mustard is delicate and bold. Its recipe with olive oil gives it a unique texture. It can also be used as a simple condiment as well as a culinary aid for sauces, marinades or dressings. Mustard can also be original !
The other flavours of the range :
organic porcini mushrooms,
organic Espelette pepper,
organic goat and nuts,
summer truffle break and organic white pepper,
organic basil and parsley,
organic pink berries,
organic roasted hazelnuts,
organic chestnuts and boletus,
black olives and organic rosemary,
organic sundried tomatoes.
 
Prepare your order of "organic mustards" online
THE ADVANTAGES OF THE PRODUCT

VISUAL 
the markers are put in the pot with oil before injecting the mustard for a brilliant result!

ORIGIN 
mustard is made in the south of France.

FLAVOUR 
a summer recipe that changes classic sauces !
Recipe ideas :
TOURNEDOS, JEAN D'AUDIGNAC's style
1. Put two tournedos in a dish with olive oil and Jean d'Audignac Organic Flavored Mustard.
2. Put in the oven for 20 minutes at 50°C (oven previously heated).
3. Fry the tournedos in a frying pan for a few minutes per side according to the desired cooking time in a drizzle of olive oil.
4. Accompany with ratte potatoes cut in half and cooked in the oven with olive oil, garlic and rosemary.
To your taste buds !
MUSTARD AND CHICKEN TAGLIATELLE
 
1. Cook 350g of fresh tagliatelle-type pasta in one litre of boiling water.
2. In a frying pan, fry a finely chopped onion with olive oil and two thinly sliced chicken fillets.
3. In a bowl, mix 20cl of liquid crème fraîche with a spoonful of Jean d'Audignac Organic Flavored Mustard.
4. Drain the pasta and add it to the preparation. Mix and adjust the seasoning to your taste.
Simple and effective!
Envie d'autres produits à base de moutarde ou de poivron ?
Mustard Dressing

La vache qui regarde passer les trains

20cl

Mackerel fillets in an old-fashioned mustard sauce

Les Mouettes d'Arvor

180g

Grilled peppers

Saveurs d'Italie

340 g

Yellow pepper drops

Jean d'Audignac

190g

Chorizo pepper aperitif pâté

Jean d'Audignac

220g