Selection of organic products
Organic shortbread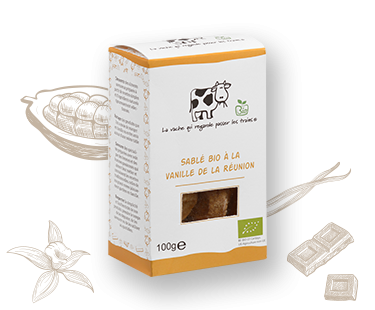 Organic shortbread "La vache qui regarde passer les trains", a pleasure for the senses !
The organic vanilla shortbread from Reunion Island La vache qui regarde passer les trains are extremely tasty. The recipe is 100% natural, made with butter, spelt flour and cane sugar. They are free of colouring, preservatives and aromas. Almost like at home !
The other flavours of the range :
 
pure butter organic shortbread,
organic shortbread with caramel and fleur de sel,
organic dark chocolate shortbread.
Prepare your "organic shortbread" order online
THE ADVANTAGES OF THE PRODUCT

RECEIPT 
an original recipe based on spelt, butter and cane sugar.
​

TASTE 
a light shortbread that tastes like butter and vanilla.

AUTHENTICITY 
a recipe with butter and vanilla from Reunion Island.
Recipe idea :
RED BERRY CHEESECAKE
 
1. Mix a box of Organic Shortbread The Cow Watching the Trains Go By.
2. Add 40g of melted butter and mix.
3. Spread the preparation in 4 small individual round moulds and press the bottom of the moulds.
4. In a salad bowl, mix 170g of fromage frais with 50g of sugar, a rounded tablespoon of flour and a whole egg.
5. Beat until the dough is smooth.
6. Add 10cl of fresh cream and pour the mixture into the mould.
7. Bake in a pre-heated oven at 180°C for 45 minutes.
8. Unmould and cover the top of the cake with a red fruit coulis once the cake has cooled.
9. Place in the refrigerator for one hour. Enjoy !
Envie d'autres produits à base de vanille ?
Organic Madagascar Vanilla

Labelle

2 pods

Mini vanilla madeleines

Les délices de Marie

250g

Vanilla Williams Pear

Jean d'Audignac

320g

Long madeleines with organic vanilla

Canto

225g

Preparation for vanilla flavoured flan

Abbaye de la Coudre

45g