Selection of organic products
Organic soups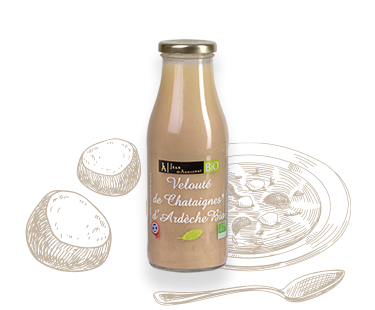 Jean d'Audignac organic soups and velvets, delicacy and voluptuousness !
The organic chestnut velouté from Ardèche is unctuous and delicate. The touch of fresh cream slightly softens the taste of the chestnut and perfectly balances the recipe. Made in France with chestnuts grown in the Ardèche, this winter velouté is delicious and comforting. The chestnuts are harvested in season and rigorously selected for a better flavour and optimal quality. A real moment of sweetness.
​
Prepare your order of "organic soups" online
THE ADVANTAGES OF THE PRODUCT

TASTE 
a chestnut well present in the mouth in perfect proportion.

ORIGIN
a recipe elaborated in the south-west of France with chestnuts grown in the Ardèche.

AUTHENTICITY
Seasonal products are cooked in an artisanal way.
Recipe idea :
A WINTER SOUP, JEAN d'AUDIGNAC STYLE 
1. Pour the Jean d'Audignac Organic Cream Soup into a saucepan.
2. Gently warm it up in a bain marie making sure it does not boil.
3. Toast small slices of wholemeal bread with parmesan cheese in a hot oven.
4. Crush previously shelled hazelnuts.
5. Fry them in a hot pan without fat, stirring constantly so that they don't burn.
6. In a bowl, place the Organic Cream Soup served generously.
7. Add two slices of toast on top.
8. Sprinkle with crushed hazelnuts.
A great winter dish!
Envie d'autres produits à base de marrons ?
Organic mustard with chestnuts and boletus

Jean d'Audignac

175g

Whole chestnuts

Les Impeccables

72cl

Terrine d'oie aux marrons

Jean d'Audignac

180g

Vanilla Chestnut Cream

Jean d'Audignac

250g

Panettone with marrons glacés

500g