Selection of organic products
Organic vegetables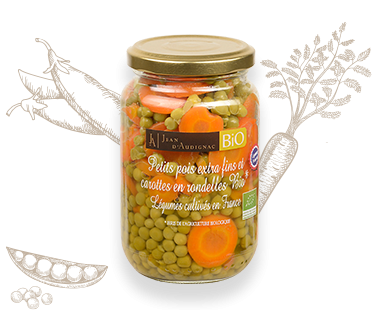 Jean d'Audignac organic vegetables, simply good !
 
Extra fine peas and organic sliced carrots are grown in french fields. Once harvested when ripe, they are cooked and preserved to preserve their nutritional qualities and taste: a real classic in the grocery store. To prepare as an accompaniment to a dish and to season according to the seasons and desires !
 
The other flavours of the range :
 
organic extra fine green beans,
organic goatherd flageolets,
organic ratatouille,
forest potatoes with organic porcini mushrooms,
beans cooked with organic Aquitaine tomatoes,
piperade with organic Espelette chilli pepper,
garbure of fresh organic vegetables.
 
Prepare your order of "organic vegetables" online.
THE ADVANTAGES OF THE PRODUCT

QUALITY 
a recipe with extra-fine peas and carrots with a slice.

ORIGIN 
organic vegetables grown in France.

TASTE 
Canned vegetables are cooked soon after they are harvested, they are rich in flavour !
Recipe idea :
SHOULDER OF LAMB WITH PEAS AND CARROTS 
 
1. Place a shoulder of lamb in a dish with a drizzle of olive oil, rosemary and garlic.
2. Place in an oven previously heated to 80°C. Cook for 3h30.
3. At the end of cooking the meat, fry 200g of smoked bacon cut into sticks in a stewpot.
4. Drain the Jean d'Audignac Organic Vegetables.
5. Add them to the preparation when the bacon is golden as well as a bouquet garni composed of thyme, rosemary and bay leaf.
6. Serve the lamb with the vegetable garnish.
Envie d'autres produits à base de carottes
Creamy carrot soup

Le Potager de Grand-Mère

72cl

Carrot petals with thyme

Croustisud

70g

Organic Tartin'apéro carrot-ginger

La vache qui regarde passer les trains

190g

Cream of organic carrot and langoustine soup

Jean d'Audignac bio

480g