Selection of organic products
Tartin'apéro bio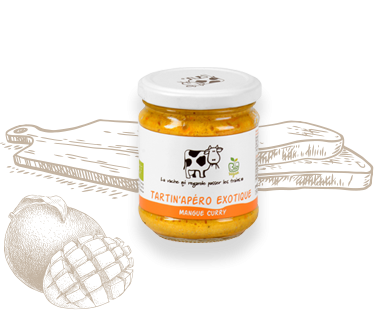 The Tartin'apéro bio "La vache qui regarde passer les trains", deliciously creamy !
The Tartin'apéro bio mango-curry is a generous spread on the palate, its sweet-salty blend is a surprise for the taste buds. The centrepiece of a successful aperitif, it is the perfect accompaniment to savoury toasts and toast. It can also be served with breadsticks or vegetables. Develop your culinary creativity and use the aperitif spread as a sauce base for a fish or pasta dish : a real treat ! 
The other flavours of the range :
THE ADVANTAGES OF THE PRODUCT

INGREDIENTS
A 100% vegetable recipe, guaranteed without artificial flavours or preservatives.

TEXTURE
Sunflower seeds give a creamy texture to the spread, which contains no dairy products.

FLAVOUR
An original recipe that will make your aperitifs twist !
Recipe ideas :
VEGETARIAN TAGLIATELLE MANGO CURRY
 
1. Cook 350g of fresh tagliatelle-type pasta in one litre of boiling water.
2. In a frying pan, fry a finely chopped onion in olive oil.
3. Then add a jar of La vache qui regarde passer les trains in the frying pan and stir.
4. Drain the pasta and add it to the preparation.
5. Mix and adjust the seasoning to your taste.
6. Sprinkle with Parmesan cheese.
Enjoy your meal !
MINI APERITIF TOASTS
 
1. Toast a slice of farmhouse bread in the oven with a little olive oil and garlic.
2. Mince a chicken fillet and fry it in a pan with olive oil.
3. Allow the chicken to cool.
3. Mix the chicken with a jar of La vache qui regarde passer les trains Organic Aperitif Spread.
4. Spread the bread generously. Sprinkle with finely chopped cilantro.
5. Cut your bread into small slices.
Your mini aperitif toasts are ready !   
Envie d'autres produits à base de mangue ou de curry ?
Madras Curry

Jean d'Audignac

40g

Mango cooked in a cauldron

Jean d'Audignac

320g

Mango exotic vinaigrette shaker

Jean d'Audignac

50cl

Mango flavoured lemonade

Jean d'Audignac

75cl

Risotto au cury

Saveurs d'Italie

175g