Your wholesaler selection
Soups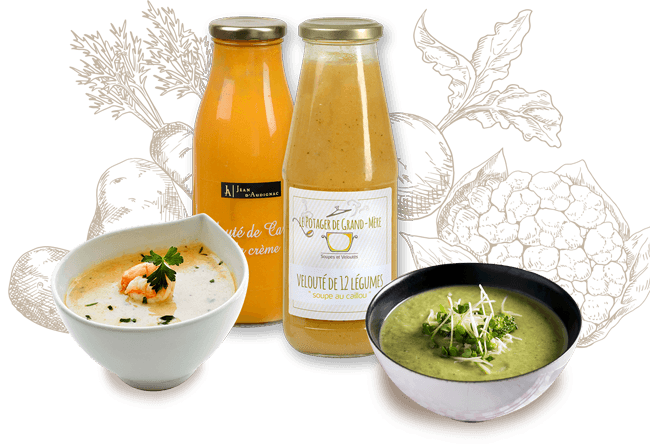 Our selection
Whether you're looking for vegetables, mushrooms or fish, serve up a spoonful of nostalgia thanks to our selection of endlessly luxuriant old-style products.
Gourmet pleasure never fails!
THE ADVANTAGES OF THE RANGE

ORIGINS
All our soups are made in France.

QUALITY
All our products are guaranteed free of preservatives and artificial colours, giving them an authentic flavour.

CHOICE
For even more food sensations, you can combine our selection of creamy, varied products with crispy Canto croutons (which are also palm oil-free).
Discover our products
PEPPER VELVET
WITH ESPELETTE PEPPER

Le Potager de Grand-Mère

720 g

SPRING SOUP
WITH VEGETABLES

Jean d'Audignac

480 g

Le Potager de Grand-Mère

700 g

MUSHROOM VELVET
WITH CREAM

Jean d'Audignac

480 g

Le Potager de Grand-Mère

700 g